Plan your visit
The earliest walk is always at 10 am. We must be off the bridge before sunset, so the time of the last walk varies throughout the year. We regularly post walks for which you can buy a ticket, and also offer walks in English and German. These will be marked with flags so that it is clear in which language the walk is being conducted. If there is no walk at the time you want, please contact us.
Buying a ticket online
You can buy your ticket both online and in our Welcome Centre. We recommend that you buy your ticket online to ensure you get a place on the walk you want.
See prices here
You need to book your ticket yourself – unfortunately, we cannot do that for you. .
You can book your ticket here
If you have any problems with your booking, please contact us. Then we will guide you over the phone. See the Call Centre's opening hours here.
Helbred og sikkerhed
Regler for deltagelse i BRIDGEWALKING
Deltagere skal:
rette sig efter guidens instrukser
anvende det udstyr, guiden anviser
være min. 140 cm. høj
ikke være gangbesværet
være i nogenlunde god form
ikke have højde skræk
ikke have indtaget alkohol. Promillen skal være 0,00.
ikke have indtaget rusmidler
ikke være gravid over 23. uge
have fastsiddende fodtøj på
Deltagere må ikke medbringe genstande på broen (mobil, kamera etc. – desværre heller ikke astmamedicin, druesukker eller lign. ) Mobil, bilnøgler mv. kan opbevares i aflåst safetyboks, mens du er på broen.
Bridgewalking er ikke egnet for dårligt gående. Det er en 2,5 km lang gåtur i højden – og der er en del trappetrin undervejs.
Bridgewalking anbefaler gæster der indtager livsvigtig medicin og/eller anvender Pacemaker at rådføre sig ved egen læge, før man beslutter sig for at gennemføre en tur.
Det er guidens ansvar at få hele holdet igennem turen, så alle får en god oplevelse. Derfor er det guiden, der vurderer, om du opfylder kravene.
Hvis du har spørgsmål, er du velkommen til at kontakte os.
Højdeskræk
Lider du af højdeskræk bør du ikke prøve Bridgewalking. Er du bare spændt og lidt nervøs, er det ingen hindring. Vores dygtige guider skal nok hjælpe dig. Hvis du har nogle spørgsmål, er du velkommen til at kontakte os.
Tursprog
Vi tilbyder ture på dansk, engelsk og tysk.
Fra 1. marts til 31. oktober er der engelske og tyske ture ugentligt.
(Se venligst flaget på turen).
Fra 1. november til 30. april arrangerer vi gerne ture for dig på engelsk og tysk. Kontakt os venligst direkte for at anmode om en engelsk eller tysk tur i denne periode.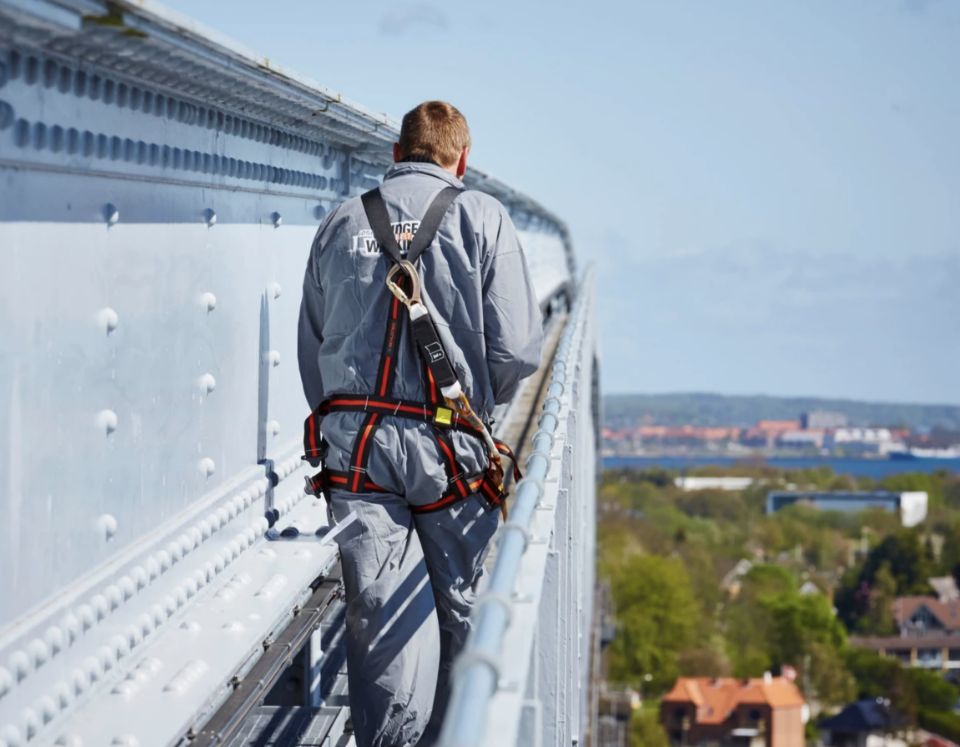 Opbevaring af løse genstande
Hvis det er muligt, vil vi bede dig placere tasker og rygsække i din bil. Mindre effekter (mobiltelefon, nøgler etc.) kan opbevares i aflåst safetyboks. Opbevaring i safetyboks er på eget ansvar.
Ofte stillede spørgsmål
Her finder du svar på ofte stillede spørgsmål.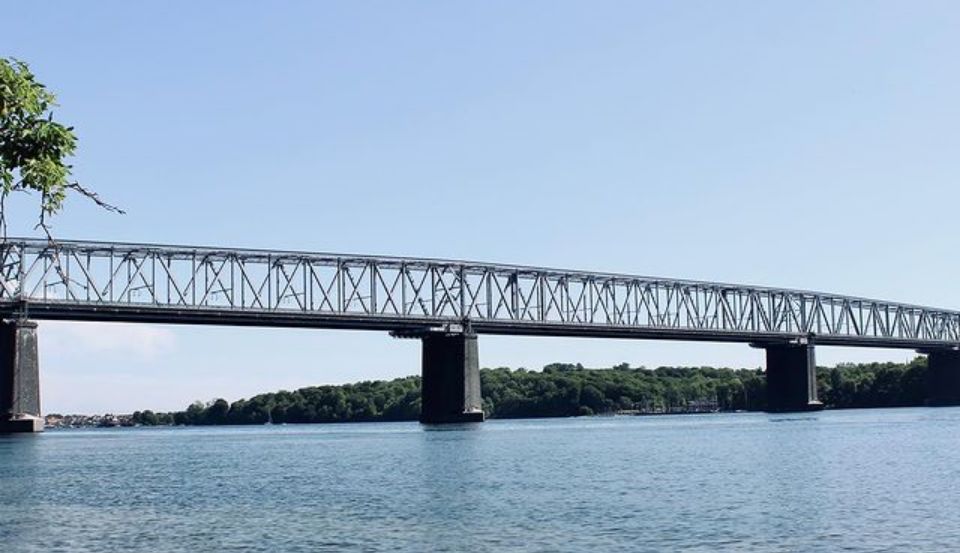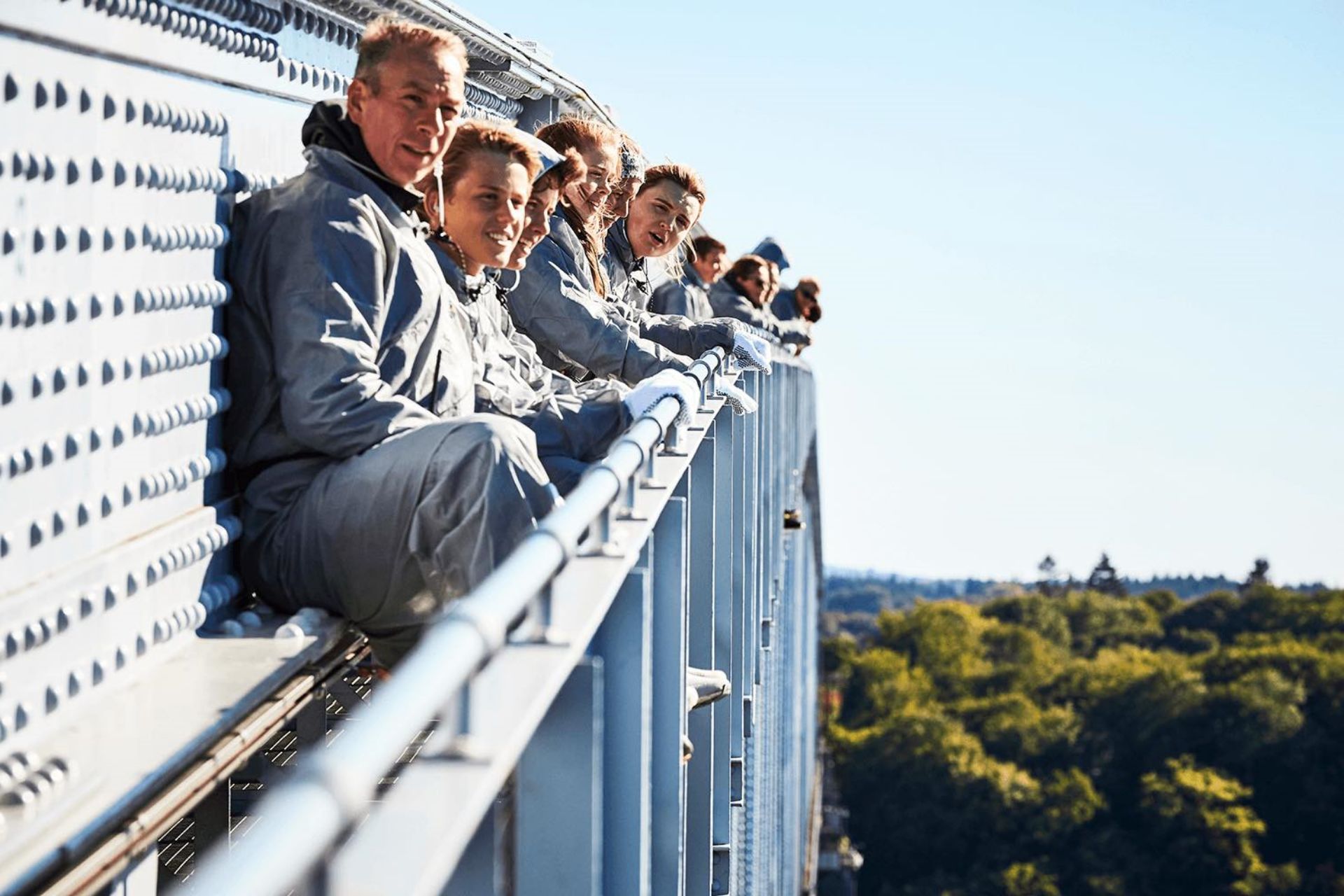 Billeder fra din tur
Hvis en gæst stiller op til fotografering på broen, betragter vi det som samtykke til, at der bliver taget et billede, som efterfølgende lægges op til gratis download på vores hjemmeside. Billeder gemmes i 2 mdr., hvorefter de slettes.
Guiden tager billeder med den Iphone, de har med, hvis det skulle blive nødvendigt at ringe efter hjælp. Det er desværre ikke altid, at billederne bliver gode pga. vejret, lysforholdene etc.
Vi kan ikke garantere, at der vil være billeder fra alle ture, ligesom vi heller ikke kan garantere, at alle gæster bliver fotograferet. Guidens primære opgave er at være guide på broen og sørge for sikkerheden.
Find billederne her