The story behind Bridgewalking
In 2011, a local citizen from Middelfart – Mogens Rasmussen – approached the then Municipality Director of Middelfart Municipality and suggested doing Bridgewalking in the bridge structure of the Old Little Belt Bridge. Mogens Rasmussen had seen BaneDanmark's personnel working at the top of the bridge structure and had thought it would be exciting to be allowed to go so high up. He was convinced when he was on holiday in Australia at the top of the Sydney Harbour Bridge. We should have that at Little Belt too.
Municipal Director Søren Andersen passes the idea on to Martin Albertsen, Chief of Staff at Middelfart Municipality. Martin Albertsen secures support for the collaborative project from Fredericia Municipality and establishes a small group across the two municipalities to work on the idea.
A joint application was sent to BaneDanmark on 7 November 2011, and on 24 February 2012, BaneDanmark replied, proposing to meet to explore the possibility of establishing a tourist attraction in the bridge structure while still maintaining the bridge as a vital traffic artery.
A business case and market study were prepared in the coming months, and applications were sent to the relevant bodies.
And finally, on 21 December 2012, the Ministry of Transport replied, with Minister Henrik Dam Kristensen giving his backing to the idea and writing that he was looking forward to following the project.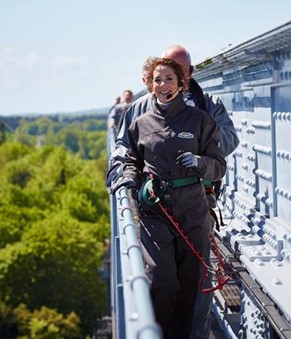 At the inauguration on 10 May 2015, it was no longer Henrik Dam Kristensen, who was Minister of Transport, but Magnus Heunicke. At the inauguration, he gave a speech, as did the two mayors, Jacob Bjerregaard (Fredericia Municipality) and Steen Dahlstrøm (Middelfart Municipality), the Australian ambassador Damien Miller and CEO of BaneDanmark Jesper Hansen, before Crown Princess Mary declared Bridgewalking open 60 metres above the Little Belt.
Mogens Rasmussen has been honoured several times for his idea. Here he was presented with the 2017 Fynske Bank Initiative Award: